Essen Internationalen Spieltage Traveler's Guide

by Ward Batty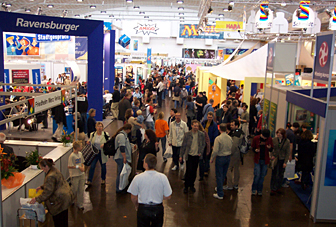 First, if you are just thinking of going, you should. The Internationalen Spieltage (or Essen game fair to most English speakers) is an amazing event that every game fan should experience at least once. I've only been twice and I'm no expert, but I love to travel and that love even extends down to the gritty details of arranging that travel. So here's some advice if you are planning your first trip. If I'm doing my job right, there will even be a useful tidbit if this is your tenth Essen trip (you lucky dog).

Getting there

From North America, I'm assuming you will fly. The closest airport to Essen is the Düsseldorf International Airport (DUS), however chances are you won't get a direct flight to Düsseldorf. So where should you fly through to get there? I've gone through Frankfurt and that worked out fine. I made the horrible mistake of changing planes last year in Paris at the Charles de Gaulle airport and it was a nightmare. I had 90 minutes to change planes and that wasn't near enough time and the next flight I could get was six hours later. Don't go through Charles de Gaulle airport. I'm told it is fine if it is your final destination; just don't change planes there. Others fly into Frankfurt (FRA) and I'm told the train ride through the Ruhr is very nice. It adds three hours and $120 or so to the trip (not sure if that is one-way or round trip). I have flown into Düsseldorf for both my trips and have not regretted it.

It's about a half hour to Essen from Düsseldorf by taxi, about an hour by commuter train (the train ride is 22 minutes, they say). If you are traveling alone, the cab fare is about 60 Euros, kinda steep. If you are taking a taxi make sure you know the name of your hotel. Having the name and address written down so the cabbie can just read it is best.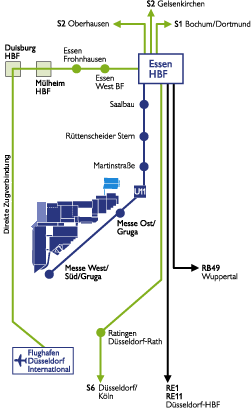 Düsseldorf airport has a train station underneath it (Flughafen Terminal bahnhof). Look for the Skytrain signs and take this to the main airport railway station. The train fare from Düsseldorf airport to Essen has been 7.50 Euros one way for the last couple of years. This is on the slower S1 train, not the ICE service. The German term for main railway station (Hauptbahnhof and Hbf). When arriving at Essen, you can go to the basement and take the subway U11 directly to the Messe Essen (convention center).

I have not rented a car in the past. Essen has a very good subway and bus system and I see no need for a car for the game fair (except maybe as a place to stash your game purchases. but that's an expensive locker).

Hotels

My understanding is that many of the hotels near the Messe Essen (convention center) are booked years in advance during the game fair. That said, it never hurts to check and I've heard from folks who say they found hotels with space within walking distance of the Messe. I've friends who managed to get rooms listed as "sold out" online, but had rooms available if you called. If you can't get within walking distance of the Messe, any hotel near a subway stop should work fine. There's a stop for the Messe, two, in fact.

Folks who deal with tourists in Germany mostly speak English. English has become the de-facto second language in Europe. I found very little problem not being able to speak anything other than English in my travels to Europe and Germany.

Here's an official site for Essen.

Packing.

You want to take as little as you can outside of clothes, personal items and medicines because your bags will be packed to the gills with games coming back. Here are the domestic and international luggage allowances for Delta Airlines, I imagine it is pretty much the same for them all, but check with yours to be safe. You want to take the two large bags that can be checked as well as the allowable largest carry-on. It may be you still will want to mail some games back to yourself, but this is something of a pain. You certainly want to be able to bring back as much as you are allowed.

In addition to clothes and your toiletries, you want to bring whatever over-the-counter medicines you think you may need. Unlike folks in America, the Germans must not be too into self-medicating, because I had a heck of a time getting Ibuprofen when I needed some. I have started taking chewable vitamin C tablets with me to conventions. Between the plane ride and all the folks at the con, I would often come home sick. I haven't since I started taking the vitamin Cs.

It would be wise to bring an extra pair of shoes. The halls are huge and you will be doing a lot of walking a whole lot of time on your feet. Plan accordingly. I mocked the folks who brought one of those wire things with wheels but, especially if you are there alone and don't have any place to stash things, it probably makes a lot of sense. Dealing with the huge numbers of games you are likely to buy there is a real issue.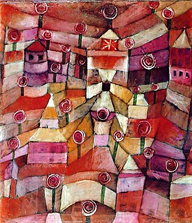 When to arrive?

The event runs from Thursday through Sunday. I arrived one day before the first year and two days the second. It seems many flights to Europe fly out in the afternoon and arrive in Europe in the morning. I don't sleep well on planes, so I need a day to get adjusted to the new time zone. I regretted that I was seeing so little of the area in my first trip, and there was an art museum in Düsseldorf that I wanted to see called Kunstsammlung Nordrhein-Westfalen am Grabbeplatz (catchy, eh?) that has a bunch of Paul Klee paintings (right) as well as several other nice pieces in the permanent collection including some Picassos and a couple of really outstanding large paintings by Kandinsky. I certainly recommend coming in early and taking in some sights if you can swing it. As amazing as the fair is, it is a shame to come to Europe and mostly see the insides of a convention hall (it is still worth it if that's all you can manage to do).

Preparing your battle plan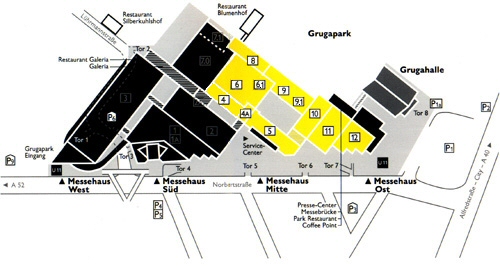 I don't believe you can come and not have fun, but this is an event that rewards advanced planning and knowledge. Boardgame Geek does a very thurough Essen Preview, which previews hundreds of new games available from dozens of publishers.

I forget when the information for the upcoming fair is posted, but at the official site they make a pdf file of all the new releases with the publishers and booth numbers A lot of folks like to mark what the booth numbers are for the games they are most interested in. In general things haven't sold out before I've had a chance to buy them.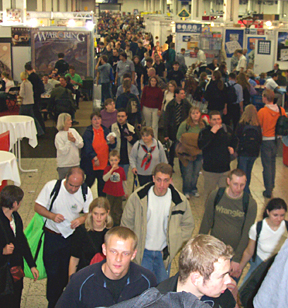 The thing that is hard to explain to folks is how incredibly big the fair is. It isn't only the 150,000 folks who attend (and on Saturday it feels like every single one of them is there) but the fact it is spread over several very large halls. The amazing thing is this event does not use the largest halls. The area in yellow is what part of the Messe the spiel fair uses. If you've ever been to Origins, each hall is about the size of the single largest hall at Origins. So getting from hall 5 to hall 9, for example, is quite a trek.

Lots of people will ask you to pick up games for them. If it is something they can get mail order, tell them no. If they saved your life at some point in the past, still tell them no on stuff they can get elsewhere. But there will be games that you can get only at the fair, so then it is your call. Be assured you will be hard-pressed to bring home your own stuff, believe me.
My plan is I don't really try to check out games that Rio Grande Games or some other American publisher will be releasing later. There's more stuff than I can check out, so I concentrate on seeing games that aren't coming over. Unless it looks really cool, of couirse.

The other thing I concentrate on is older German games that are out of print. There are a number of dealers of older games and you can get stuff at very good prices that you can't find over here. This takes a lot of research. The most useful site that I've seen for reviews of these games is Spielphase. This is a German-language site has reviews of over 3,000 games by Andreas Keirat and Claudia Schlee. They rate games from 1-6 (with a die, how cute is that?) and I find that, in general, if they give it a 5 or 6 and it is the kind of game I like it is worth trying out. You can run the pages through the language tools at Google and you should be able to get a sense of how the game works and what they thought. This said, the translations at best sound like Yoda "Each player takes over a number of play figures, a whose goal can it be attained the opposite village fastest." and at worst sounds something like the Oracle at Delphi would sound like if she were German "If the sanduhr ran off, the write phase ends and everyone takes itself its tapping maps and puts one or more maps covered before itself off."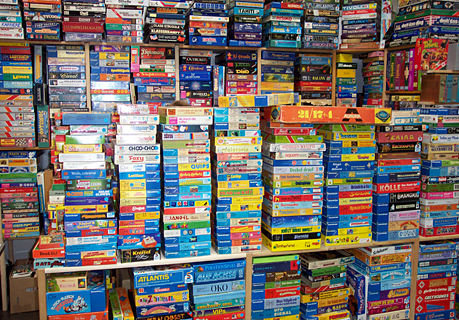 The 'geek gets better all the time, but another source for German game info (mostly in German) is Luding, which is the boardgame without the geek. They do a listing of the games announced for Essen.

Tickets are easy to get on site, especially on Thursday, but any time during the show. There's also an ATM at the site, very handy for getting Euros and one of the cheapest, BTW. Other than your hotel, expect to pay for everything with cash. Some restaurants take plastic, but many don't. Don't expect any dealers at the show to take anything other than cash.

You absolutely want to be there for the whole day Thursday. The show runs from 10 am to 6 or 7pm most days. You may get half your looking around done the first day. The crowds are might lighter than on the weekend days, even Friday will be more crowded. Make the most of Thursday. If you use Thursday and Friday wisely, you will have most of your "must do" errands checked off, because getting around on those days is daunting. Everyone tolerates huge crowds differently, but I pretty much hate them. So by Saturday I'm looking for a place to sit and play new games (I like the Amigo booth, others prefer Ravensburger, but getting a charming Amigo girl to teach you a new game is a fine way to avoid the Saturday crush, although finding an available table can be a trick on Saturday.)

Next year I might even skip the show on Saturday and do some sightseeing. Germany is pretty much closed on Sundays, as I discovered when I skipped the show to see more of the town of Essen. I'm sure this seems like sacrilege, but I make hay earlier in the week. I also am able to get a press pass thanks to my "day job" co-publishing Comic Shop News. With the press pass I am able to get in on Wednesday, when folks are setting up. So by Sunday I've been there four full days.

Food, anyone?

The fair closes each day at 7pm, so you can do some sightseeing in the evenings. If nothing else, you got to eat. I like German food. I wouldn't want to eat that much meat all the time, but it's fun to dine with a culture that's comfortable with their place on the food chain. But, just like back home, the international cuisine is my favorite. They have several very good Chinese restaurants in Essen. I also had Turkish food that was very good (pretty much like Greek food, but I don't want to start any arguments here). German pizza deserves mention. It is pretty good, especially if you like a thin crust. German pizza comes very thin, what they call "pepperoni" is really some sort of salami. German pizza comes unsliced. Popular pizza topping there is ... tuna.

Your hotel will most likely include a morning meal that Europeans believe is breakfast. It will consist of rolls and bread, luncheon meats, (new, strange and mysterious luncheon meats, but nothing as freaky as the olive loaf), hardboiled eggs, and cereal. You can get coffee and juice as well. The good news is it is included in the price of the room and a free meal is a free meal, no matter how strange.

At the fair, you'll do better to stick to the more local cuisine. They will make you a hamburger but, knowing what real hamburger tastes like, it won't be very good. However, I think the bratwursts and other sausages are fine. There's some sort of fried chicken thing that looks decent, and a stew also looks like real food. Whether these measures up to their real counterparts, I don't know, but to me it was fine. Just so you know, they don't fill the fountain drinks to the top, but to a line on the cup. Accept this now and you can avoid an ugly international incident.

German beer is delicious. I drink 80% of the beer I drink all year in Germany. Probably explains a lot of my behavior there.

Things to do in Essen other than the game fair

Lots, obviously. They have a lot of stuff in Europe. I've explored nearby Düsseldorf more than Essen itself. Both are worth seeing. Last year I ended up just walking around Essen for a couple of hours Sunday. Fall arrives early in Germany (compared to Atlanta, anyway) and it was a lovely day to just take in the sights. See the links for tourist links with things to see and do in Essen and Düsseldorf.

Derek Carver wrote to say, "I've been doing the Essen trail for 20 years and something that hardly anybody ever mentions is the large Toys 'R' Us in Essen (not far from the hauptbahnhof). They have a vast range of games - including many unusual ones. The price is cheap, of course, and being open in the evenings one can shop and transport them back to the hotel in a far more civilised manner!" I'll certainly give this suggestion a try next time I'm there. Thanks, Derek!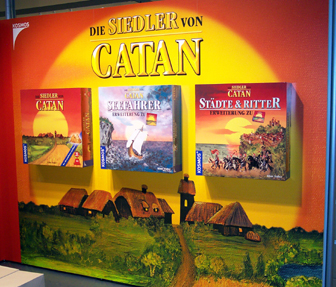 Advice from Chris Kovac

Remember your day pass (unless you are the press or a dealer) as they will only allow you one entrance and exit from the fair, though they are usually pretty good at allowing you to deposit games in the car then come right back. They might not even allow you to do this on the very busy Saturday and Sunday.

Find some other gamers and go around as a group since it is easier to play games.

Remember most stores and offices close around 6:00 p.m. so get any shopping done early. Most stores are closed Sunday.

The best-used games go early so if you are looking for older games go to the used games area as soon as possible.

Please note if you have any problems with cigarette smoke remember there is still a lot of smoking in Germany and at the show especially in the food areas. I found it not bad last year but the mornings and weekdays are better than the weekend.

...and from Paul Johnson

Bring something to put your purchases in as you graze the show. Not all retailers will give you a bag. On my first trip I bought a copy of Torres from a small stall and was lugging it around under my arm. I soon discovered this was a bad idea when a security guard who thought I'd just liberated it from a nearby stall accosted me.

Try to make your purchases towards the end of the show each day. A purchase here and another there and you will soon find you've got an unwieldy collection of heavy boxes to lug round for the rest of the day.

Don't wear anything too warm to the show. It's warm inside, especially so at the weekend. Something with pockets, however, is handy for cramming card games into.

Check games for completion, especially if the box is unsealed. It's much easier to get a replacement part on the spot or even the next day than to trust to the postal service afterwards.

Bring a friend or two. Getting a table to play a game is much easier for a group than a single person.

If you're flying, be aware of your weight allowance. Especially if you're flying on a budget airline. Don't make the mistake of bringing an enormous case which is so heavy that you bring it back almost empty for fear of going over your limit.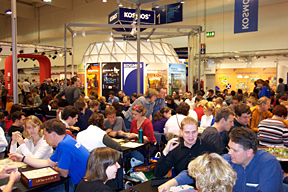 Be prepared to haggle a little, especially if you're buying a few games. Some stalls will knock a few Euros off, some won't.
If you want to do more than snack at the fair, bring your own food. The restaurant is expensive. Bring a picnic hamper - you can fill it with games when you're done :-)

Check with your hotel when booking if that twin room is really a twin or a double as some hotels describe doubles as twins. Otherwise the evenings may get a little cozier than you had planned for...

Shop around - prices vary. However, it can be worth making most of your purchases from the same stall even if it's not strictly the cheapest for everything. I've been given a discount before now because the woman on the stall recognized my face from previous purchases.

Don't buy a lot of stuff sight unseen too early. Wait for the buzz to guide you. Talk to people, get a feel for what to grab and what to avoid. The exception is limited edition stuff that you're interested in. Get it while you can if it looks like it's selling.

Be aware that Germany has different types of trains, which attract different fares. Don't buy a cheap (RE) ticket and board a fast (ICE) train or you'll find yourself buying another ticket. You can usually get a return for less than two singles. Also, if there are a few of you traveling, look at the price of group tickets - this can be a big saving.

If you find yourself in a supermarket, you'll probably notice lots of cheap bottles of alcohol. There's usually a good reason why it's so cheap. Beer is one of the exceptions.